---
This storm occurred during a period of unstable weather in NSW lasting several days. The storm band developed and approached from the mountains during the afternoon from around 3pm. By 4:30pm, storms had moved within close proximity of the western Sydney region from the NW. Consequently, I phoned Michael to inform him of the situation and arranged to meet him at his place. On the way, I took 3 photographs of the developing heavy precipitation cascade. This was found to consist of sudden heavy rainfall and some non-severe hail.

At 5:30pm, we headed for Rooty Hill only to find the storm had rapidly moved to the southeast. We were able to photograph the rear end of the storm including developing rain and small hail falling diagonally from the cloud base indicating strong winds. This occurred over areas such as Carlingford and Eastwood. We called this session off after heading west towards Penrith. The storm to the south of Penrith had evaded us and left in its wake strong dusty winds which did no good to our eyes.
Media Reports
4500 homes blacked out at Camden, Ambarvale, Kentlyn, Appin & Emu Plains. Trees uprooted at Camden and Winmalee.
Synoptic Charts
Synoptic Charts provided by the Bureau of Meteorology
MSL Analysis 7 am Eastern Standard Time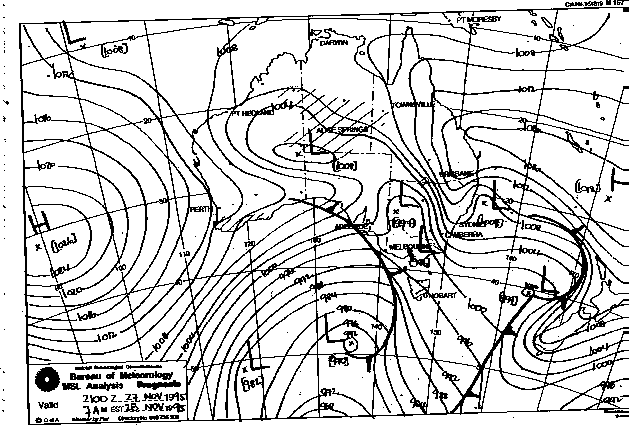 MSL Analysis 1 pm Eastern Standard Time
---