---
Between 2 and 3pm in Sydneys northern suburbs a severe storm resulted in numerous reports of hail damage. A 300m high waterspout occurred in the Harbour off Royal National Park. 75km/h winds and hail from 2 to 5cm diameter were the main causes of damage reports.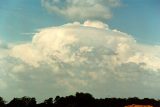 Meanwhile another severe storm on the mid north coast at Coffs Harbour resulted in hailstones up to 10cm diameter. The time of this event and damage reports are not available.
From Jimmy Deguara's weather observations:
Large cumulus with stratocumulus around bases. Brief heavy showers locally, one developing to E of Schofields. More cumulus developed into storms to E and SE with cirrostratus streaming and developing from NW. Another band of altocumulus/cirrostratus and cumulus developed to S and SW. As this approached, strong SE winds developed. Stratocumulus developed at the bases. Heavy falls towards coast moving E. A band of developing rain/heavy rain and light hail around 1:30pm. Hail larger than golf ball size around Ryde. Cumulonimbus band moved E-NE. Stratus and stratocumulus developed soon from S-SE. Large cumulus elsewhere to S-SW with altocumulus cleared or dissipated. Temp 17 - 27C. Cold front off E NSW with cloud band. High SA. Low N.T. with cloud.
---